"Nothing thicker than a knifes blade separates happiness and melancholy." – Virginia Woolf
Virginia Woolf, born Adeline Virginia Stephen on January 25th, 1882 was an English writer and leading modernist of the twentieth century. Known for her groundbreaking books, including Mrs. Dalloway, Orlando, To the Lighthouse, A Room of One's Own and The Waves and her stylistic writing of the modernist movement's stream of consciousness style, Woolf has made a name for herself as one of the most famous female authors.
Born into a family of free-thinkers, Virginia lived a privileged childhood and was described as curious and spirited in her early years. Sadly, the light-heartedness of Woolf's childhood was met with traumas. Onset by sexual abuse by her half-brothers, which she later divulges in her essays A Sketch of the Past and 22 Hyde Park Gate, and fueled by the sudden death of her mother at age 13, Woolf suffered greatly, and began to struggle with her mental health, a struggle that would continue throughout her life. Virginia ended her life at age 59, after spending much of her life suffering from deep bouts of depression.
Along with her novels, Virginia authored a number of personal essays, which afforded us a glimpse into her private world, but arguable no writing she has produced is as telling as her suicide note – her final words left to the mortal world.
Addressed to Woolf's husband, Leonard, her equally beautiful and haunting letter gives us a look into the soul of a women whose words allow her to live on endlessly.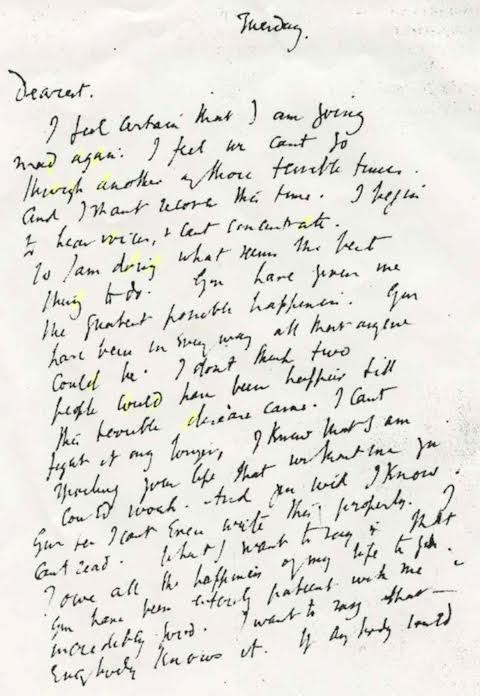 Dearest,
I feel certain I am going mad again. I feel we can't go through another of those terrible times. And I shan't recover this time. I begin to hear voices, and I can't concentrate. So I am doing what seems the best thing to do. You have given me the greatest possible happiness. You have been in every way all that anyone could be. I don't think two people could have been happier till this terrible disease came. I can't fight any longer. I know that I am spoiling your life, that without me you could work. And you will I know. You see I can't even write this properly. I can't read. What I want to say is I owe all the happiness of my life to you. You have been entirely patient with me and incredibly good. I want to say that – everybody knows it. If anybody could have saved me it would have been you. Everything has gone from me but the certainty of your goodness. I can't go on spoiling your life any longer.
I don't think two people could have been happier than we have been. V
Virginia left no blatant indication of how or where she was to end her life, which resulted in search and despair for her family and friends for the weeks to come.
It was later found that Woolf drowned herself by filling the pockets of her overcoat with rocks, walking into the Ouse River – her body was not discovered until three weeks later, on April 3rd, 1941.
Through Woolf's acknowledgement of both the struggles and joys of life, we are able to look into the window of her private world, a view that one is not necessarily afforded in her infamous novels.
While it may seem odd to acknowledge Woolf's contribution to literature on the day of her birth with her suicide letter, the tangible representation of her death on March 28th 1941, this seems to be so much more. This is Virginia Woolf's final piece of literature she shared with the world. While suicide notes are not often regarded as pieces of literature in themselves, these raw, bearings of the soul are often the most honest works we will ever read.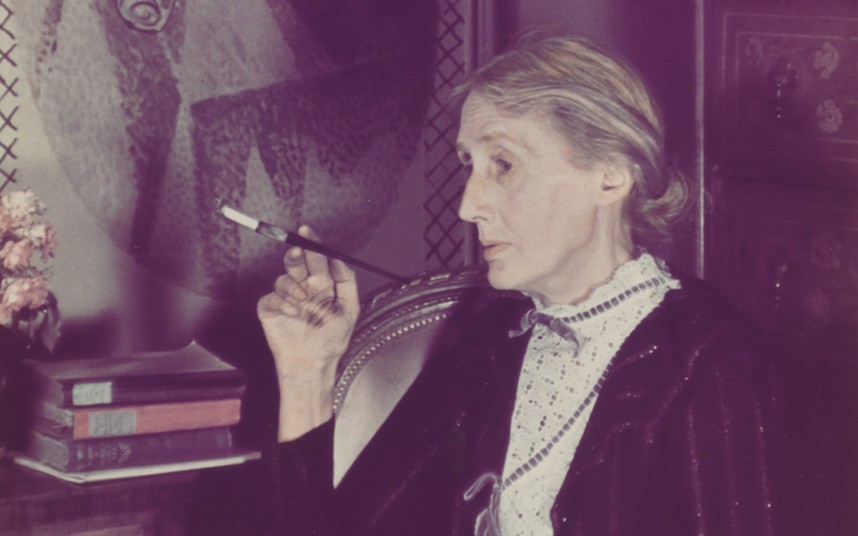 The last photograph of Virginia Woolf, taken in 1939 by Gisèle Freund.
This final piece allows us to understand the anguish and despair Woolf suffered, and the bittersweet nature of life, which Woolf carries in the tone throughout – Leonard and their love being a silver ring around a grey cloud. We no longer wonder how Woolf felt and thought, she is raw, honest and clear about her understanding of her illness and the pain it caused her, along with her undying affection for her husband and her appreciation of the love they shared. Literature, in its purest forms, is about emotion. Virginia's note is a hauntingly beautiful reminder of the fragility that comes with life, and the beauty we are able to create from the darkest depths.
This is not meant, of course, to romanticize suicide or Woolf's tragic death. This is not an invitation, of course, to pass judgments on Woolf or interpretations of her words, which were not written for us. It is an ode to honor her, in her deepest and realest moments, in the feelings that are all too human, and sometimes seem too hard to bare.
When we resonate at all with the feelings of such work – such personal and deep inner working of the heart and minds of those we admire – we are in good company, company that reminds us we are not alone, not now and not ever. We share our deepest feelings, our darkest thoughts, our worst fears, with the souls we admire. When we read their words, that feel stolen from our own hearts, they are a light that whispers in our ear, "I am here with you, you are not alone, I will show you the way".
"You cannot find peace by avoiding life"

"If you do not tell the truth about yourself you cannot tell it about other people."

"As a woman I have no country. As a woman I want no country. As a woman, my country is the whole world."

"I can only note that the past is beautiful because one never realises an emotion at the time. It expands later, and thus we don't have complete emotions about the present, only about the past."

"Nothing thicker than a knife's blade separates happiness from melancholy."

"Women have served all these centuries as looking glasses possessing the magic and delicious power of reflecting the figure of man at twice its natural size."

"All extremes of feeling are allied with madness."

"I have lost friends, some by death…others by sheer inability to cross the street."

"Distorted realities have always been my cup of tea."

"The history of men's opposition to women's emancipation is more interesting perhaps than the story of that emancipation itself."

"I like the unreality of your mind; the whole thing is very splendid and voluptuous and absurd."

"She felt very young; at the same time unspeakably aged."

"I am made and remade continuously."

"I am obscure and odd, very deeply odd."
For more like this, sign up for the morning newsletter.