Day 15 of quarantine,
Toilet paper supply is stable, but tensions are high. I spent Friday night cooking vinegar braised chicken and roasted beats when I began to feel that throb of restlessness. It's coming, I thought. I drowned it in the last bottle of wine I had stashed away, unnerved by the fact that liquor stores are now closed and I may need to start making moonshine in the bathtub. Later that evening my father was watching Groundhog Day and my sister had to ask him to turn it off. Isn't it enough we're living in Groundhog's Day?
The next morning, I heard my parents arguing in the kitchen. Something to do with my dad wanting to put bacon fat in the pancake batter (again with this?). I stayed in my room, looking at the empty space in bed next to me, thinking of Jay caught in the crosshairs, trying to sneak out of the kitchen with his coffee. When he came back in our room, he shut the door behind him and said, 'gonna let it cool off in there before getting breakfast.'
After breakfast (pancakes with no bacon fat), I told everyone I was going off to my office to work for the day. I try and stay in the basement as often as possible. I'm starting to love it down there. The cold concrete floors. The tall, wood ceilings with the pipes and electrical chords running across it like colorful streamers. The closed umbrellas, potted plants and discarded furniture comfortably barricading me.
Only later did I leave my space to watch a movie. My father picked Guess Who's Coming to Dinner. When my mom asked why Katharine Hepburn looked like she was going to cry through the whole thing, I said it was because Spencer Tracey, her costar of eight films and lover of twenty, was dying. This would be their last film together. That just three weeks after filming, he would be dead. I thought you said you hadn't seen this before, my dad said. I haven't, I just love Katharine Hepburn.
I love that she wore pants before they were fashionable and when Barbara Walters asked if she owned a skirt, told her she had just one and would be sure to wear it to her funeral. I loved that when fans chased her for an autograph she told them to "Beat it!" To which her fans replied, "We made you", to which she replied. "Like hell you did," blacklisting herself from Hollywood. I love that after she couldn't get work, she asked a director friend to write a script for her explaining her personality to viewers, a Broadway play turned film known as The Philadelphia Story. Did you know she won an Oscar for that movie?
Mid explanation, I realized I really did love Katharine Hepburn. Jesus. I thought back to earlier in the week when the news of coronavirus was increasing and work was dwindling, and I told everyone over dinner that the only way to embrace this was to accept the worst and get comfortable with it. The stoic philosophy. You know, like Katharine Hepburn. This was twice in one week I'd mentioned her. Then again, I thought, maybe that's not such a bad thing….
It reminded me of an interview Eartha Kitt did during a publicity tour for the Disney film, The Emperors New Groove. When asked how she felt about playing the evil protagonist Yzma, she replied, 'I love her because she goes after what she wants.' In Elena Ferrante's novels she talks about how Elena Greco (herself) channels her brilliant friend, Lila, when she needs to be strong. When something bad or uncomfortable used to happen to Nora Ephron, she'd think of her mother and her stern advice that 'everything is copy.' And George Clooney, I recently learned, doesn't wear makeup in any of his films not because he's difficult or quirky, but because his acting idol Spencer Tracey didn't. According to Clooney, 'I heard he never wore makeup, so I've never worn makeup, ever. I won't put it on in any movie.'
Is that how these people do it? They channel others – stronger, bolder icons? Growing up, my mother was a devout Catholic and she'd always be asking us, and herself, What Would Jesus do? Today I realize that habit of looking to someone for guidance is still ingrained. Only that someone isn't Jesus. It's Katharine Hepburn. And Diana Vreeland. And Dorothy Parker.  
As I sit in the cold basement, I don't feel alone because I'm surrounded by friends. Women I've been learning about and developing relationships with for years. And without even realizing it, I've been emulating them. Developing my character around them. Channeling them. Would Katharine Hepburn worry about sending an email asking for what she wants? Would Diana Vreeland care what anyone thought about her shoes, her coat, her hat? Would Dorothy Parker censor what she's writing just because a few people may not agree? In the cold basement, I sit with my friends and let their strength fill me. And at almost thirty, I'm realizing the power of having imaginary friends.
As we face an unknowable amount of time alone, or surrounded by others, in need of strength, guidance, or just entertainment, I suggest using this time to find your own imaginary friend. Someone whose story and history you connect with. Someone who makes you feel confident and invincible. Someone worthy of emulating when times are tough and you need inspiration to push through. To send the email. To answer back. To fight for what you want.
If you don't already have someone in mind, I've listed out a few of my favorite women and the stories I know of them that give me inspiration. Maybe you'll connect with one of these women. Their stories. Their eccentricities. Their ways of living.
Katharine Hepburn: When I Need Courage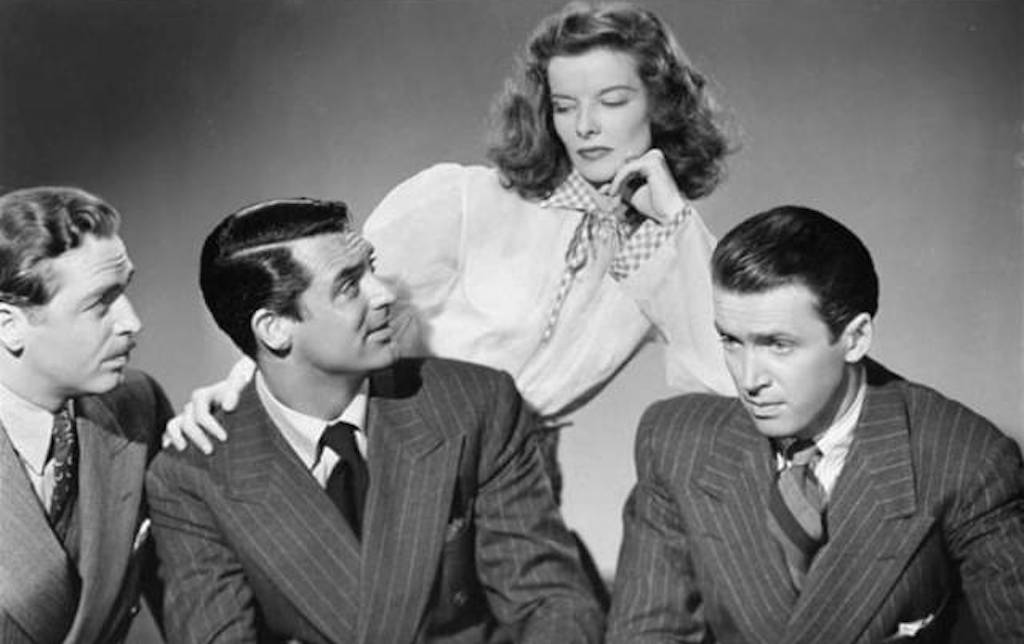 Sometimes described as "too masculine" or "too rough," Katharine Hepburn could be difficult to cast opposite the leading men of the day. George Stevens, who directed Hepburn in Alice Adams, had to teach her how to do love scenes, because, "she had always thought that to play a love scene with a man involved standing up straight and talking to him strong, eye to eye."
In a 1974 interview with Russel Harty, Elton John tells a story about having Katharine Hepburn over to his house.
Russel Harty: You had the distinction of having had Katharine Hepburn in your swimming pool.
Elton John: Fishing out dead frogs, yes, while I stood there quaking on the side, going, 'There's a frog in the pool, there's a frog in the pool! There was a dead frog in the pool and that's the one thing I'm afraid of – cause they leap and you don't know where they're going to leap. So I went, 'there's a dead frog in the pool' and she hates frogs as well. But she just got this big twig, dived in the pool, fished it out and threw it. And I said, 'Listen, how on earth could you do that?' And she just turned around and didn't say it for effect, just says, 'Character, dear boy, character!' And started swimming again and left me mesmerized.
"Katharine Hepburn is one of the most stimulating women I know. She's unfeminine in that she scorns gossip, backbiting, and logrolling. She has an intelligent curiosity about everything. She spits out her opinions no matter how unpopular they may be. She makes no professional or social concessions. She's a gal I'd like to have on my side in a jam." – Tallulah Bankhead
Diana Vreeland: When I Need To Be Myself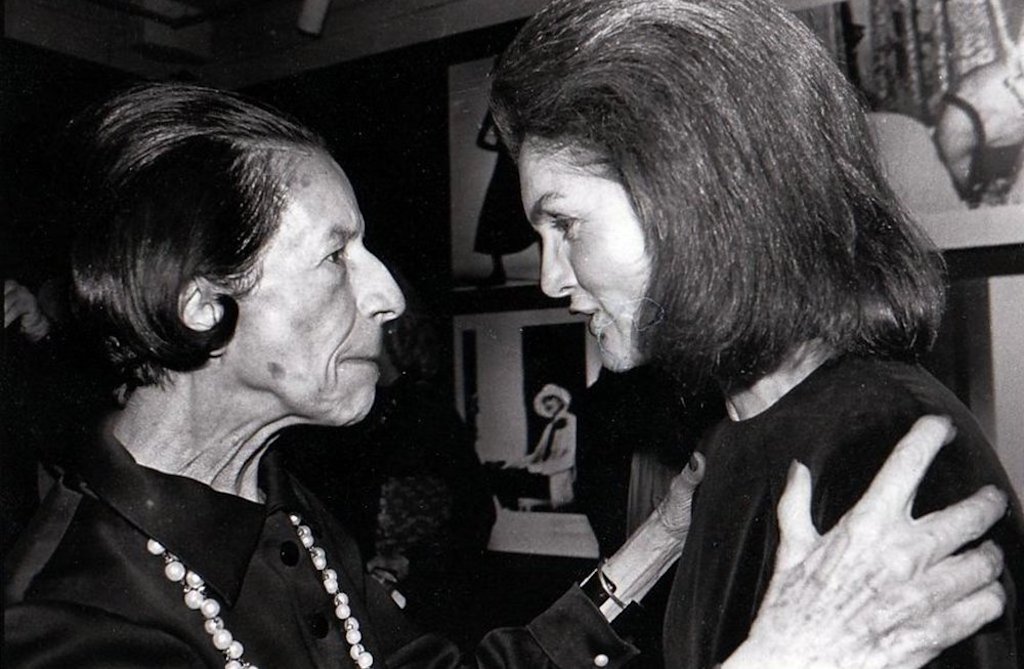 She hung up the phone, turned around and I saw her for the first time from the front. She had the brightest, red-painted cheeks, in two little circles, like Chinese opera make-up. Her hair was black and she had long bony fingers with extremely red nail polish, and ivory bracelets up to her elbows. Her face was powdered white and she had an amazing profile, almost like a cockatoo.
She said: "My dear…" and stopped talking while she lit a cigarette in an ivory holder. She took a long puff and then looked up in the air as if contemplating something. Then she looked back at me. It was dramatic. I thought my heart was going to stop. I knew how important she was and I thought: "Oh my God, she's looking at me."
She took a few more puffs, came out from behind her desk and straightened her skirt. She reached out her long arms, bracelets clinking, and looked me in the face. I was terrified. Then she pushed down on my shoulders, so I wasn't on my toes, and said: "Darling, you must always be rooted like a tree." – Pat Cleveland on meeting Diana Vreeland for the first time.
Dorothy Parker: When I Need Not To Give a Damn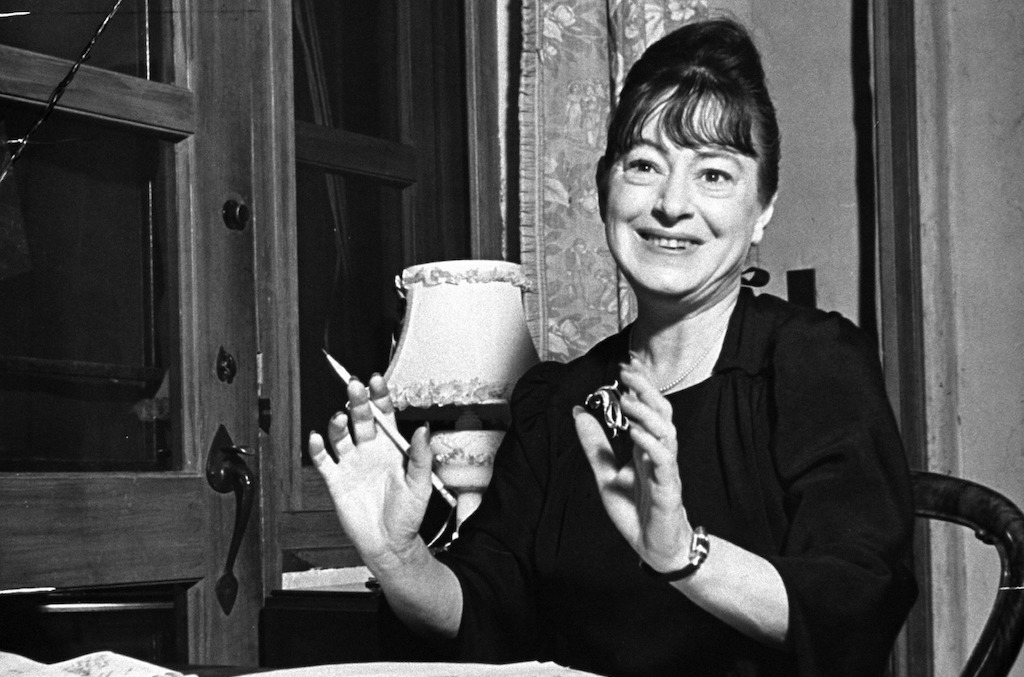 But I shall stay the way I am, because I do not give a damn. – Dorothy Parker
Kicked out of convent school at thirteen, Dorothy Parker's break came when she sent a poem, Any Porch, to the charismatic editor of Vanity Fair, Frank Crowninshield. She soon progressed from caption writer at Vogue to staff writer at Vanity Fair, eventually becoming the magazine's drama critic. She went on to publish over 300 poems and free verses in various magazines, and in 1926, her first volume of poetry became a bestseller. She joined The New Yorker as a staff writer at its inception, in 1925, and from 1927 to 1931, she wrote the immensely popular Reading and Writing column.
A staple at the literary 'Round Table', an infamous group of famous male writers in the 1920s who met up at the Algonquin bar, Parker held her own. One evening the group proposed a challenge. Use the word 'horticulture' in a sentence.
Dorothy's Response: 'You can lead a horticulture, but you can't make her think.'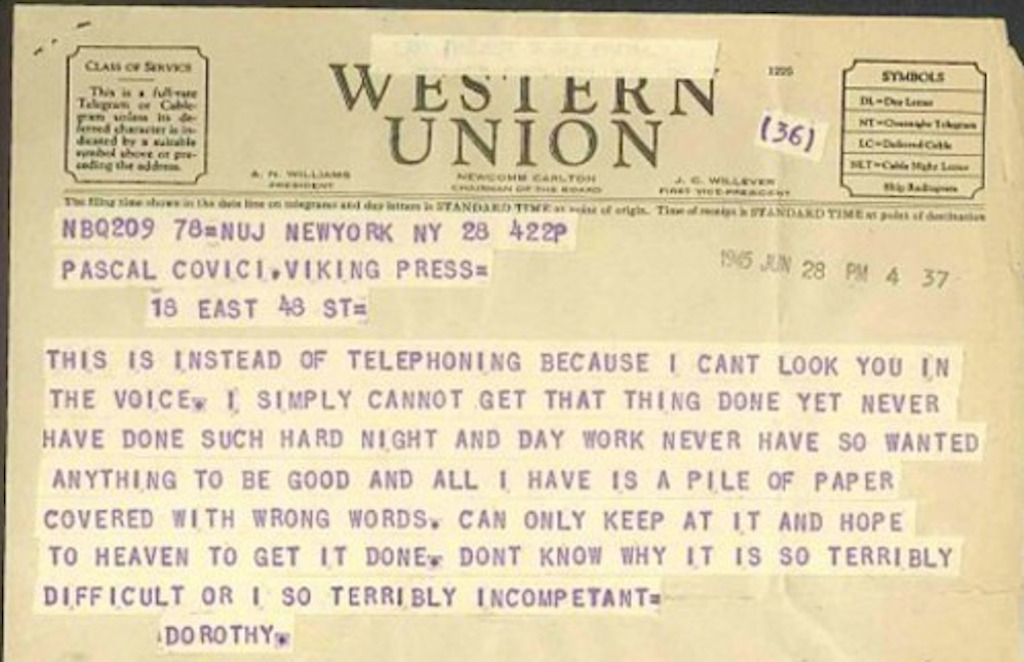 On her tombstone reads: "Excuse my dust"