They say that writing heals. Putting pen to paper is like pouring a warm bath for your soul. It's been the savior of the greatest literary geniuses the world has known – Hemingway, Plath, Bukowski, Sexton.
And there is no one, I mean no one, who can touch your soul like Anne Sexton. While she used her writing to heal herself, she ended up healing every woman who would go on to read her.
The former fashion model turned Pulitzer prize winning poet suffered from depression and mania, with her first manic episode taking place after the birth of her first child in 1954. After a second episode in 1955 she met Dr. Martin Orne, who became her long-term therapist at the Glenside Hospital. It was Dr. Orne who encouraged her to take up poetry.
Sexton recalls this pivotal moment in her writing career, "My analyst told me to write between our sessions about what I was feeling and thinking and dreaming."
Within months she found early acclaim with her poetry; a number were accepted by The New Yorker, Harper's Magazine and the Saturday Review. Sexton later studied with Robert Lowell and Sylvia Plath.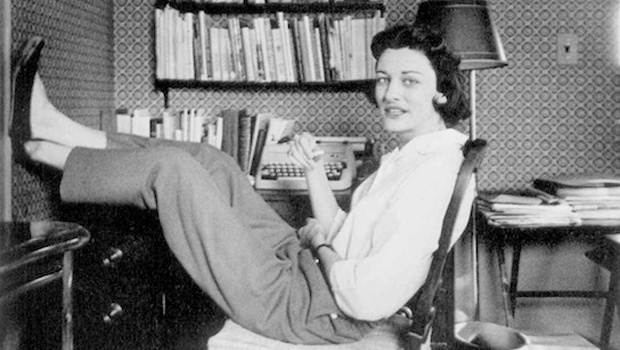 Within twelve years of writing her first sonnet, she was one of the most honored poets in America: a Pulitzer Prize winner, a fellow of the Royal Society of Literature and the first female member of the Harvard chapter of Phi Beta Kappa.
Maxine Kumin described Sexton's work: "She wrote openly about menstruation, abortion, masturbation, incest, adultery, and drug addiction at a time when the proprieties embraced none of these as proper topics for poetry." During the late 50's, however, writing this way was not popular. Sexton was openly discouraged by many of her friends and family. She recalls this in an interview with Patricia Marx, stating, "At the same time everyone said, 'You can't write this way. It's too personal; it's confessional; you can't write this, Anne,' and everyone was discouraging me. But then I saw Snodgrass doing what I was doing, and it kind of gave me permission."
On October 4, 1974, Sexton had lunch with Maxine Kumin to revise galleys for manuscript of The Awful Rowing Toward God, scheduled for publication in March 1975. On returning home she put on her mother's old fur coat, removed all her rings, poured herself a glass of vodka, locked herself in her garage, and started the engine of her car, committing suicide by carbon monoxide poisoning.
Much has been made of the tangled threads of her writing, her life and her depression. Robert Lowell, Adrienne Rich and Denise Levertov commented in separate obituaries on the role of creativity in Sexton's death. Levertov says, "We who are alive must make clear, as she could not, the distinction between creativity and self-destruction."
Sexton died at the age of 45. In her short life she discovered what it means to be a woman and what it means to be unhappy. Though she ended up taking her life she has given to others in similar plights. When you read her, you hear her and you, in turn, suffer less.
"Put your ear down close to your soul and listen hard."

"I am stuffing your mouth with your
promises and watching
you vomit them out upon my face."

"I am a collection of dismantled almosts."

"The joy that isn't shared dies young."

"I'm lost. And it's my own fault. It's about time I figured out that I can't ask people to keep me found."

"Don't bite till you know if it's bread or stone."

"Meanwhile in my head, I'm undergoing open-heart surgery."

"Talk to me about sadness. I talk about it too much in my own head but I never mind others talking about it either; I occasionally feel like I tremendously need others to talk about it as well."

"I feel unspeakably lonely. And I feel – drained. It is a blank state of mind and soul I cannot describe to you as I think it would not make any difference. Also it is a very private feeling I have – that of melting into a perpetual nervous breakdown. I am often questioning myself what I further want to do, who I further wish to be; which parts of me, exactly, are still functioning properly. No answers, darling. At all."

"That's what I do: I make coffee and occasionally succumb to suicidal nihilism. But you shouldn't worry — poetry is still first. Cigarettes and alcohol follow"

"Somebody sees me, and I see myself through them. Then it's all gone, the whole world falls apart."

"Poetry led me by the hand out of madness."

"It doesn't matter who my father was, it matters who I remember he was."

"I am not at home in myself. I am my own stranger."

"I don't care, I love you anyhow. It is too late to turn you out of my heart. Part of you lives here."

"…the thing with October is, I think, it somehow gets in your very blood. Unapologetically. Almost ruthlessly."

"Yes. Yes. Yes. I hear. Your silence is loud."

"I am a collection of dismantled almosts."

"I want to sleep all day and night (i.e., not live but not quite die)"

"Even so, I must admire your skill.
You are so gracefully insane."

"You care and it's all over the place."

"And I dream, awake, I dream."

You will survive your terror, and come out grand, simply grand.
— Anne Sexton, from a letter to Claire S. Degener featured in A Self-Portrait in Letters

"I am alive at night. I am dead in the morning…"

"The tongue, the Chinese say, is like a sharp knife: it kills without drawing blood."

"I am sometimes totally lost from the world."

"I feel unspeakably lonely. And I feel – drained. It is a blank state of mind and soul I cannot describe to you as I think it would not make any difference."

"Why else keep a journal, if not
to examine your own filth?"

"Lust is so inadequate. And loving exhausts me."

"I am sometimes totally lost from the world."

"I cling to my own ache, I cling to the past and it gets to a point when I can't even remember without hurting."