"In 1930, Davis moved to Hollywood to screen test for Universal Studios. Davis and her mother traveled by train to Hollywood and arrived on December 13, 1930. She would later recount her surprise that nobody from the studio was there to meet her at the train. In fact, a studio employee had waited for her, but left because he saw nobody who "looked like an actress".
Bette Davis was not beautiful. Bette Davis was not tall. Bette Davis should not have been a movie star. Yet Bette Davis was the best actress Hollywood had ever seen.
Davis was the co-founder of the Hollywood Canteen, and was the first female president of the Academy of Motion Picture Arts and Sciences. She won the Academy Award for Best Actress twice, was the first person to accrue ten Academy Award nominations for acting, and was the first woman to receive a Lifetime Achievement Award from the American Film Institute.
Throughout her life, she accrued over 100 films, television and theater roles. In 1999, Davis was placed second behind Katharine Hepburn on the American Film Institute's list of the greatest female stars of classic Hollywood cinema.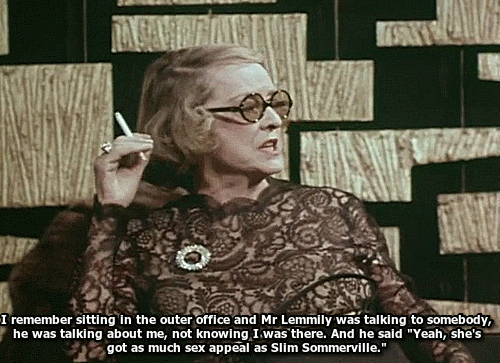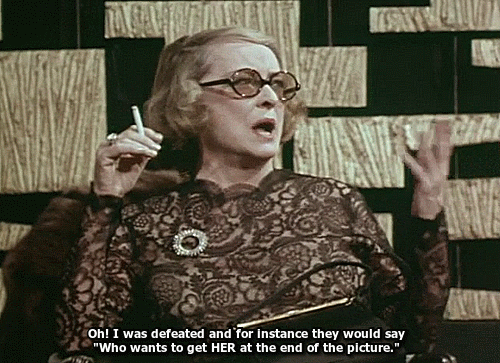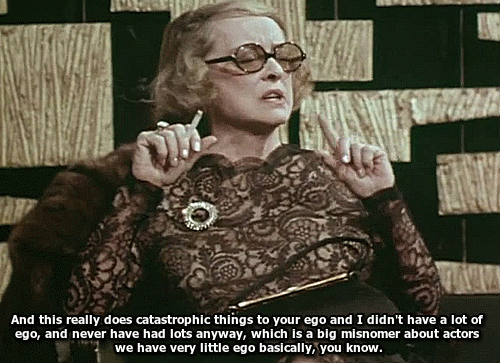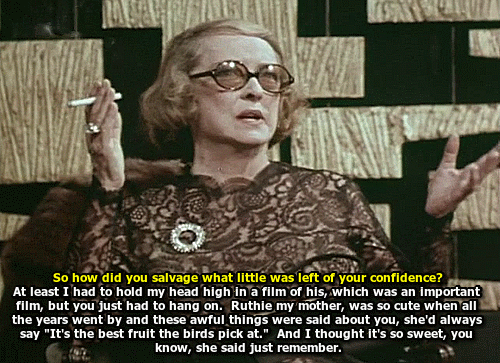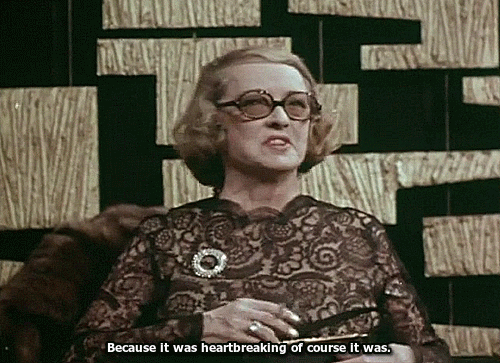 Unlike Katherine Hepburn, she did not fit the mold of the 1930's movie star. What she lacked in long legs and sculpted features, however, she made up for in grit. Pure and honest grit….and lots of talent of course.
Her talent wasn't immediately recognized and the amount of rejection she received in the start of her career would be enough to turn anyone away.
Carl Laemmle, the head of Universal Studios, considered terminating Davis' employment, but cinematographer Karl Freund told him she had "lovely eyes" and would be suitable for Bad Sister (1931), in which she subsequently made her film debut.Her nervousness was compounded when she overheard the Chief of Production, Carl Laemmle, Jr., comment to another executive that she had "about as much sex appeal as Slim Summerville," one of the film's co-stars."
During filming she was visited on the set by the actor Charles Laughton. She commented that she had a "nerve" playing a woman in her sixties, to which Laughton replied, "Never not dare to hang yourself. That's the only way you grow in your profession. You must continually attempt things that you think are beyond you, or you get into a complete rut." Recalling the episode many years later, Davis remarked that Laughton's advice had influenced her throughout her career.
By this time, Davis was Warner Bros.' most profitable star, and she was given the most important of their female leading roles. Her image was considered with more care; although she continued to play character roles, she was often filmed in close-ups that emphasizes her distinctive eyes. All This and Heaven Too (1940) was the most financially successful film of Davis' career to that point.
After more than 20 film roles, the role of the vicious and slatternly Mildred Rogers in the RKO Radio production of Of Human Bondage (1934), earned Davis her first major critical acclaim. Many actresses feared playing unsympathetic characters and several had refused the role, but Davis viewed it as an opportunity to show the range of her acting skills. Her co-star, Leslie Howard, was initially dismissive of her, but as filming progressed his attitude changed and he subsequently spoke highly of her abilities. The director, John Cromwell, allowed her relative freedom, and commented, "I let Bette have her head. I trusted her instincts." She insisted that she be portrayed realistically in her death scene, and said, "the last stages of consumption, poverty and neglect are not pretty and I intended to be convincing-looking.
In 1989, Davis died of breast cancer. In a 1988 interview, Davis remarked that, unlike many of her contemporaries, she had forged a career without the benefit of beauty. She admitted she was terrified during the making of her earliest films and that she became tough by necessity. "Until you're known in my profession as a monster, you are not a star," she said, "[but] I've never fought for anything in a treacherous way. I've never fought for anything but the good of the film." During the making of All About Eve, (1950) Joseph L. Mankiewicz told her of the perception in Hollywood that she was difficult, and she explained that when the audience saw her on screen, they did not consider that her appearance was the result of numerous people working behind the scenes. If she was presented as "a horse's ass … forty feet wide, and thirty feet high," that is all the audience "would see or care about."
"The real reason that most people in most professions are not very good is very simple: It's harder to be good. It takes a fight to always reach the highest standard, and it takes many fights to get everyone with whom you work to reach the highest standard. The vast majority of people all over the world are perfectly happy showing up, doing the least amount of work, and going home with a paycheck and the good will of their bosses. This, to me, is death. We all have a very limited amount of time to share our talent, and we all have a very limited amount of time when our energies support our efforts to husband our talents, so I do not understand this lazy approach to living. Everything we need is out there, but we have to go get it, use it, take care of it, share it, and most poor bastards are content to just muddle through, and this, sadly, is true of so-called artists on the stage and in film, and the bosses will inevitably reward the lazy, good-natured people who refuse to ruffle feathers or to raise the art." – Bette Davis in an interview with James Grissom 1984

"I think Bette Davis would probably have been burned as a witch if she had lived two or three hundred years ago. She gives the curious feeling of being charged with power which can find no ordinary outlet.

"If everybody likes you, you're pretty dull."

"It's better to be hated for who you are, than to be loved for someone you're not. It's a sign of your worth sometimes, if you're hated by the right people."

"My passions were all gathered together like fingers that made a fist. Drive is considered aggression today; I knew it then as purpose."

In 1926, there was a young girl from Lowell, Massachusetts who had a dream. She wanted to become an actress. Her name was Ruth Elizabeth Davis, commonly known as Bette. She was not beautiful, she was not tall and willowy. She had a tiny high-pitched voice that would not have been heard beyond the first row in any theater. But she did have drive and ambition. She did not know whether she had talent or not. She had a great champion who worked and slaved for many years to help her dream come true. Without this great champion's belief in her, there never would have been the great success she finally attained. The champion's name was Ruth Favor Davis; she was her mother. How her eyes would have sparkled if she could have been here tonight.
–Bette Davis accepting her AFI Life Achievement Award in 1977