Hilda Terry was a cartoonist mostly known for 'Teena', a comic strip about a teenage girl that ran for 20 years in American newspapers. She was the first woman allowed to join the National Cartoonists Society in 1950 and became a pioneer in early computer animation.
Born in 1914, Terry was raised in Newburyport, Massachusetts. She recalls being discriminated against her family and even assaulted them for being Jews. After leaving school at age 14, she worked in a local factory, soldering radio components. But she had ambitions of being a cartoonist and came to New York, where she found work as a waitress at Schrafft's on Times Square.
She studied art at the National Academy of Design and the Art Students League, where one of her teachers was D'Alessio. They were married in 1938. Not long after, the gossip columnist Leonard Lyons included a piquant item about how Terry managed to sell the New Yorker a cartoon that her husband had thought too frivolous to draw himself.
'Teena' first appeared on December 7, 1941 after William Randolph Hearst saw her American Magazine cartoon, Carrots O'Hara, and telegrammed his newspaper syndicate-. "Get Hilda Terry."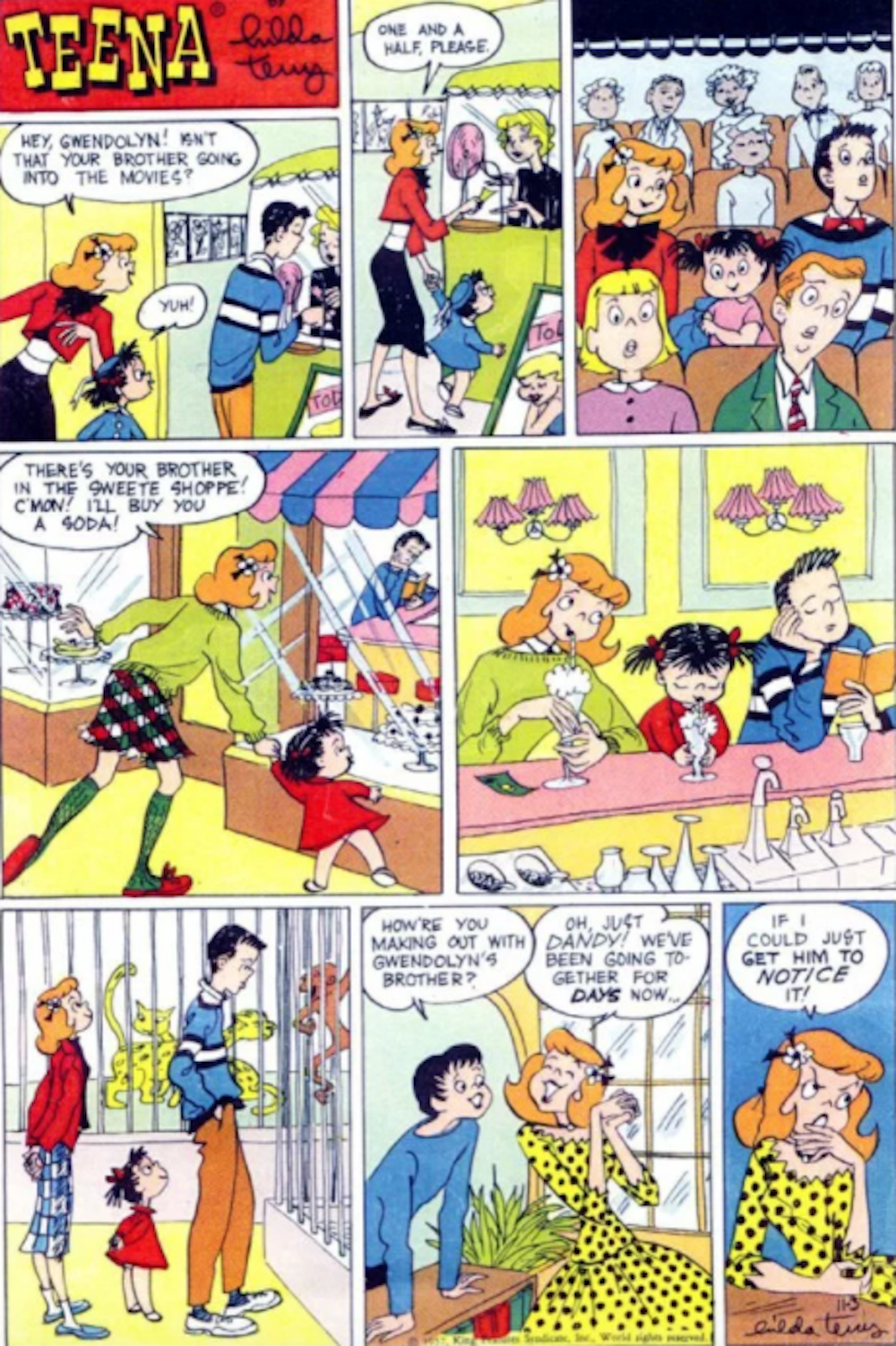 The name 'Teena' was born from the new use of the word "teenager" that was slowly becoming popular.Comics historian Don Markstein noted:
"Tina" was a good candidate for the new one's name, but the word "teenager" was just coming into vogue, so that was the spelling used. Teena started on July 1, 1944.
As World War II progressed, Terry and her husband both drew for patriotic war bond campaigns ostensibly scripted by celebrity entertainers like Fibber McGee and Molly. In 1943, she won a contest sponsored by the Office of Wartime Information for the best cartoon on wartime conservation. It showed a sprightly housewife (resembling Terry) spinning around to whack the refrigerator shut with her foot while carrying an armload of plates laden with food. The caption: "Lunch! Everybody come eat what you left on your plates yesterday!!!"
After embarrassing the National Cartoonists Society into withdrawing its blackball against women, she served as a judge on the contests it sponsored.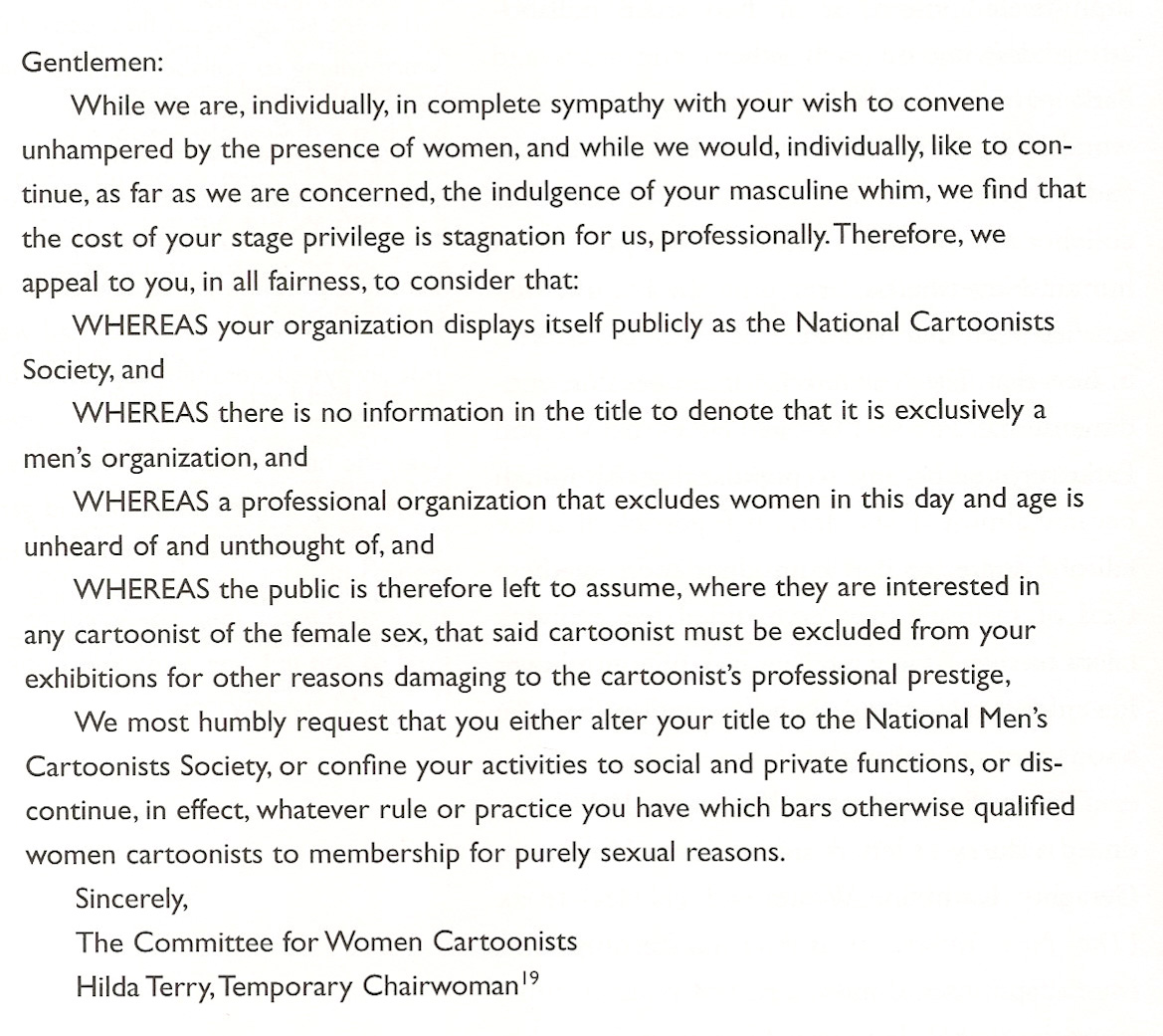 After the demise of "Teena" in 1964 — Terry blamed a wave of newspaper strikes — she supported herself with architectural drafting and sketching patent applications. She also taught at the Art Students League.
To supplement the giant portraits of ballplayers she created for stadium scoreboards in the early 1970s, Terry got involved in early computer animation. The National Cartoonists Society gave her its Best Animation Cartoonist award in 1979.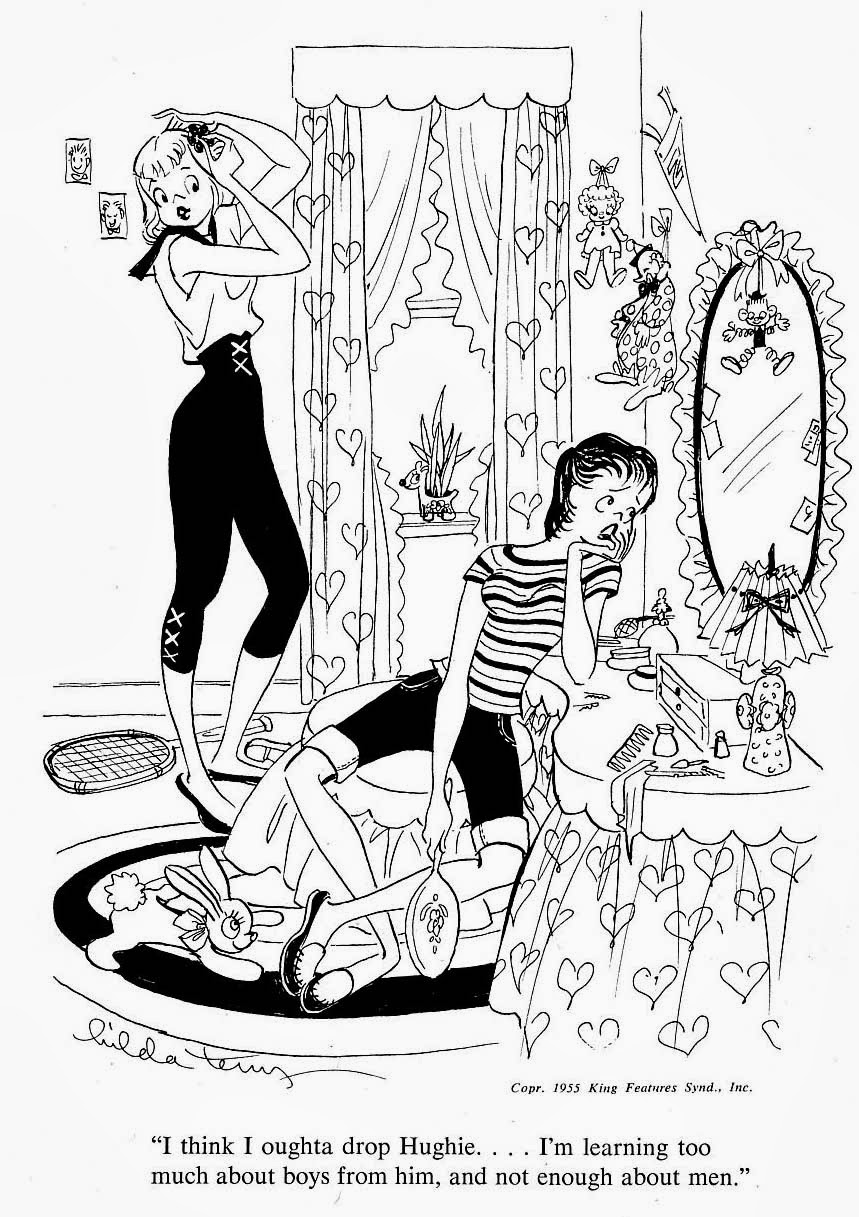 Terry died at her computer on Friday the 13th of October, 2006. She was 92 years old. It seems only fitting that she would pass on Friday, the 13th, as Terry was given to darkly connected dates. Born on the day of the "Great Salem Fire," when half of Salem, Massachusetts burned down, Terry believed that in a former life she had been Dorcas Good, a child imprisoned along with her mother on charges of witchcraft, in 17th century Salem.