Jane Fonda; she's Hollywood royalty, fitness ambassador, actress, political activist and writer. Lily Tomlin; she's a girl from a working-class neighbourhood in Detroit, a comedienne, actress, producer, writer and devoted supporter of the LGBT community. They have each other's backs about the causes they support, present awards to each other, do talk shows together, walk the red carpet at award shows arm in arm, decide to do projects because the other one is doing it and over the decades have clocked up so much time in the company of one another. Put all of this in one melting pot and you've got a rich and meaningful friendship that has stood the test of time, even if Lily doesn't invite Jane round to her house much.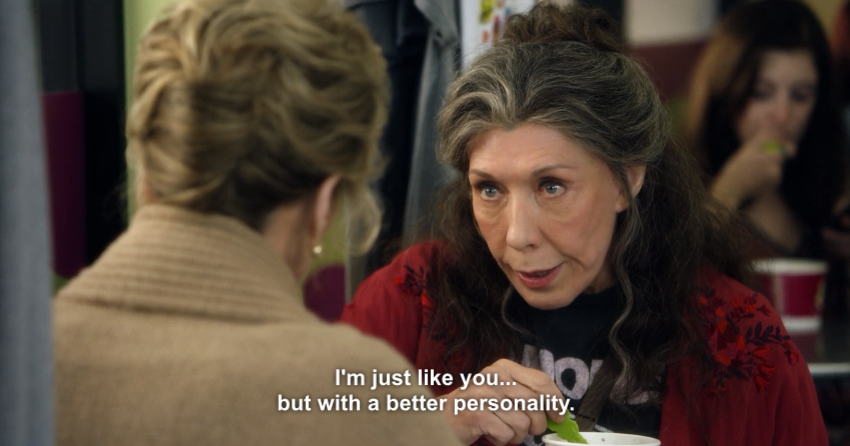 The pair first joined forces in the 80s hit, 9 to 5. The film was originally meant to be a drama, but after seeing Tomlin in her one-woman show, Appearing Nitely, Fonda knew she wanted her in it. And it had to be a comedy. It took a year of adamant no's from Lily before she finally gave in and a cult classic was born.
A year later, Fonda joined Lily in an episode of one of her television specials playing a bag lady called Wanda Fonda. And they were never seen on screen together again until…
Over thirty years later they reunited in 2015 for Netflix's Grace and Frankie, a comedy web television series about two unlikely friends who are brought together after an odd turn of events in both of their marriages. Thank you Marta Kauffman for creating this show, our lives are much better for it.
In a TEDWomen Talk from January of this year, the duo told Pat Mitchell, in between all the teasing, laughing and a few scientific facts, what female friendship means to them and why the world needs women.
"Female friendships are just a hop to our sisterhood. And sisterhood can be a very powerful force… Maybe we have the momentum to start a third-wave feminist movement with our sisterhood, around the world with women we don't see, women we may never meet but we join together that way." – Lily 
The pair are a testament to the power of female friendship. Add in their words to additional quotes from inspiring women on friendship and you'll understand exactly how important the women in your life are:
"Lots of people want to ride with you on the limo, but what you want is someone who will ride the bus with you when the limo breaks down."
– Oprah Winfrey

"It's the friends you can call up at 4am that matter."
– Marlene Dietrich

"Some people go to priests, others to poetry. I go to my friends."
– Virginia Woolf

"Women understand. We may share experiences, make jokes, paint pictures, and describe humiliations that mean nothing to men, but women understand. The odd thing about these deep and personal connections of women is that they often ignore barriers of age, economics, worldly experience, race, culture — all the barriers that, in male or mixed society, had seemed so difficult to cross."
– Gloria Steinem

"There is nothing like puking with somebody to make you into old friends."
― Sylvia Plath

"My definition of a friend is somebody who adores you even though they know the things you're most ashamed of."
– Jodie Foster

"We come from homes far from perfect, so you end up almost parent and sibling to your friends – your own chosen family. There's nothing like a really loyal, dependable, good friend. Nothing."
– Jennifer Aniston

"Each friend represents a world in us, a world possibly not born until they arrive, and it is only by this meeting that a new world is born."
― Anaïs Nin

"In my friend, I find a second self."
– Isabel Norton

"I found out what the secret to life is: friends. Best friends."
– Ninny Threadgoode

"I'll never have a best friend who is a man. It just doesn't work that way. So many times young girls will be like, 'I'm a guy's girl.' And I'm like, 'No, you're not. There's no way a man can understand you like a woman, and you're a guy's girl because you're threatened by other women.' I was like that."
– Jemima Kirke

"If you have two friends in your lifetime, you're lucky. If you have one good friend, you're more than lucky."
― S.E. Hinton

"Friends are the family you choose."
– Jess C. Scott

"No man is capable of being your best friend … A best friend is someone who goes to get their nails done with you."
– Chelsea Handler

"You find out who your real friends are when you're involved in a scandal."
– Elizabeth Taylor