What's so hard about that first sentence is that you're stuck with it. Everything else is going to flow out of that sentence. And by the time you've laid down the first two sentences, your options are all gone. – Joan Didion 
I'm not someone who reads the back of books. I've been told by editors and agents that the back is one of the most important parts when it comes to selling a book. The back, they say, is what draws readers in. The back is where they decide. Yet for some reason – partly my contrarian nature, partly my belief that no book nor movie can be properly summarized – I have never turned over a book to read the back.
Instead, I flip to the first page. Past the table of contents, past the dedications, past the prologue until I find myself on the first words of the first paragraph. If those words can grip me, hook me, as Benjamin Percy says, drag me down the rabbit hole, then I'm sold.
I have never been led wrong by my first line approach. For every book I've ever read because the first paragraph beckoned me ended up being one of my favorite reads. Of course, however, there are exceptions. Books like The Goldfinch, Normal People, Just Kids, are some of my favorites and those opening lines did not make it on this list. But we can't make lists if we're going to adhere to every rule or condition or book ever written. Today's list is about my love for opening lines and the books that fulfilled on their promises.
I also want to point out, if you love reading as much as I do, it's important to continue to support local bookstores if you ever want to see them in the future. Many of them are offering free shipping for those ordering direct from them and if there's anything to 'splurge' on in this time of crisis, it's books. Not only are you helping them, but you're helping yourself. (If the author's bookstore pic isn't offering free delivering in your town, try and find it in your local bookstore and order from them).
Tell Me Lies by Carola Lovering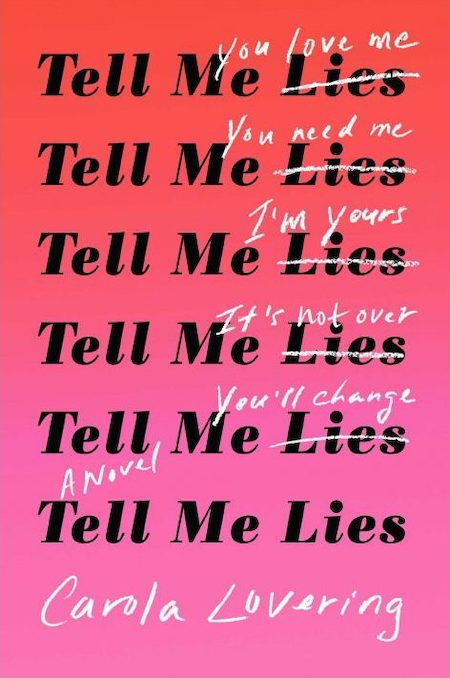 Opening Lines: I wake up two minutes before my 5:45 a.m. alarm goes off, on instinct, like the neurotic, sleep-deprived New Yorker I've become. My head kills from the wine- Dane and I split two bottles with the dinner that I paid for – but I force myself out of bed anyway. Three Advil, two cups of coffee, and an Adderall and I'll survive the day. And isn't that what New York is all about anyway- surviving?
I read this book during a rough time in my life. It was winter and I hated my job and the edges of it are now warped and crumpled because it got wet from carrying it through the rain one too many times. But that's because I walked with it – everywhere. It was the perfect distraction for me. On the subway, the couch, in the lobby of the office I dreaded walking into. Or maybe because I was Lucy, or had been Lucy. A woman who finds herself in love with a man who strings her along only to break her heart, over and over. We all remember that first real heartbreak, don't we? When we do things we can't believe we did for guys we can't believe we dated.
Author's Favorite Book Store: Barrett Bookstore
Bonjour Tristesse by Françoise Sagan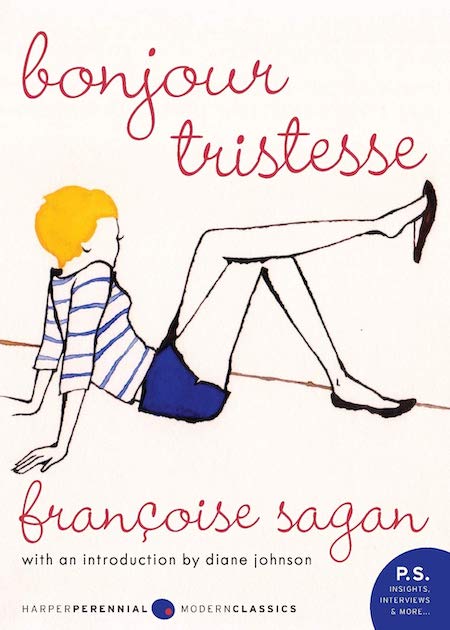 Opening Lines: A strange melancholy pervades me to which I hesitate to give the grave and beautiful name of sorrow. The idea of sorrow has always appealed to me, but now I am almost ashamed of its complete egoism. I have known boredom, regret, and occasionally remorse, but never sorrow. Today it envelopes me like silken web, enervating and soft, and sets me apart from everybody else.
I just reread this book and could read it six more times. The prose are sharp and elegant. The story is bold and the story behind the story is even bolder. For what initially led me to this book was learning about the author. At eighteen, Francoise Sagan had just graduated from school and instead of following her classmates to university or traveling across Europe, she told herself she'd write a book. After three months she sent her completed manuscript to a publisher who, after reading it, arrived at her doorstep to have the young author sign a contract before anyone else could snag it.. Imagine Eloise but French, seventeen, having sex on the beach and plotting the demise of her father's new girlfriend.
Author's Favorite Bookstore: Unknown so check out McNally Jackson
And Now We Have Everything by Meaghan O'Connell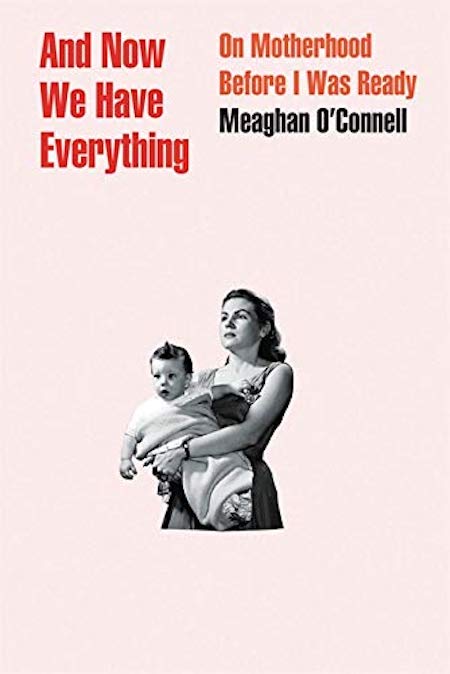 Opening Lines: A baby was the thing we were trying to keep out. A baby was a consequence. A fuckup. Or it had been until recently, when, like a joke that slowly becomes sincere, I started imagining myself pregnant in a nightgown. Strangely, I never imagined the baby. Only me, a mother. How it might change me or wake me up. Make me better.
I passed this book three times in the local bookstore before buying it. I was drawn to it each time but even the idea of buying a book about pregnancy felt pre-emptive. Why did I keep looking at it then? Why couldn't I stop thinking about it? When I finally took it off the shelf and read the first page, I knew why. I wanted to know if I was ready. If I'd ever be ready. And this book delivered on its promise. A raw, real and poignant story of a twenty-something New Yorker who finds herself pregnant with her serious boyfriend. The book answers the questions we keep asking ourselves – if not now, when?
Author's Favorite Bookstore: Broadway Books
Places I Stopped on The Way Home by Meg Fee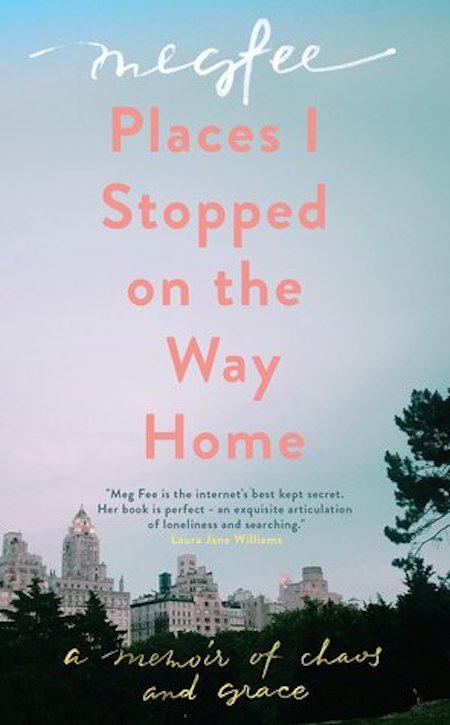 Opening Lines: This is a love letter to the nights I climbed into bed with a full face of makeup, too tired to take it off. To the days when one latte was not enough, when the two basic food groups were caffeine and sugar. This is a note to the girl I was when joy was a thing always ten feet away, when getting out of bed was harder than not.
Bed bugs, bad dates and one too many apartments. Meg Fee's memoir of her years in the city is as magical as it is real. While reading it, I felt I had a friend in New York. Someone to share all my worst and best stories with. Someone to talk to when the loneliness felt too much, when the heartache was too heavy and when I went on another bad date with another good guy. What I especially love about this book is every chapter is broken up by the neighborhood she lived in. Upper East Side. Bryant Park. West 4th Street. Every place has its own story of love and loss and lessons learned. If I had to describe this book in one word, I'd say it feels like home.
Author's Favorite Bookstore: The Regulator
Please See Us by Caitlin Mullen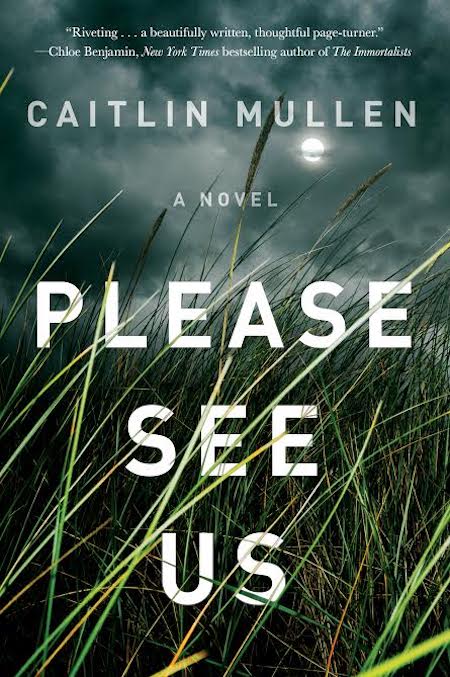 Opening Lines: By the second week in June, there are two dead women laid out like tallies in the stretch of marsh just behind the Sunset Motel. They are so close to each other that their fingers nearly touch. The women can see everything with perfect clarity now, the man's entire design available to them as though they had thought of it themselves: by the end of eight weeks' time there will be five more women.
In a weird way, sometimes crime is the only thing that gives me some relief. A true distraction, this book calls upon all the things I love from a good murder mystery. Serial killers. Imperfect protagonists with endearing qualities and a unique location that makes the whole thing seem removed enough to intrigue me, but close enough it's believable. What I also loved about this book was that it's not just women being murdered, like usual, but women trying to solve the murder. No men to the rescue.
Author's Favorite Bookstore: Word Bookstore