If you want a thing–truly want it, want it so badly that you need it as you need air to breathe, then unless you die, you will have it. Why not? It has you. There is no escape. What a cruel and terrible thing escape would be if escape were possible. – Parable of the Talents by Octavia Butler
Octavia Butler was a famous and prolific science fiction writer. She was the first science fiction author to receive the MacArthur Fellowship, also known as the "Genius Grant" and the first African American woman to win widespread recognition writing in the genre. In 2000 she received the Lifetime Achievement Award in Writing from the PEN American Center.
Like most ambitious writers, Octavia Butler maintained a routine that became ritual. Each morning she'd rise before dawn, and then write until she had to do the work that brought her money. She labored as a dishwasher, then as a potato-chip inspector, and in her off time she orchestrated her future career. Though she worked hard for her success, she was vocal in the power of belief and affirmation in oneself.
So why try to predict the future at all if it's so difficult, so nearly impossible? Because making predictions is one way to give warning when we see ourselves drifting in dangerous directions. Because prediction is a useful way of pointing out safer, wiser courses. Because, most of all, our tomorrow is the child of our today. Through thought and deed, we exert a great deal of influence over this child, even though we can't control it absolutely. Best to think about it, though. Best to try to shape it into something good. Best to do that for any child.

– Octavia Butler | A Few Rules for Predicting the Future
She wrote pages of diary entries and notebooks that served as motivational guides, and you-can-do-it passages where she implored herself to keep writing and keep believing. Butler would soon find the kind of success she wrote about not long after writing down these affirmations. Many of her novels, including Clay's Ark and Kindred, were at the tops of bestseller lists around the world, and earned her honors and accolades including an induction into the Science Fiction Hall of Fame.
Since 2008, Butler's annotations, notes, research materials, and drafts of novels have been housed at the Huntington Library in California, which Huntington says are  "one of the most actively used archives at the Library." Below are a few selections from them: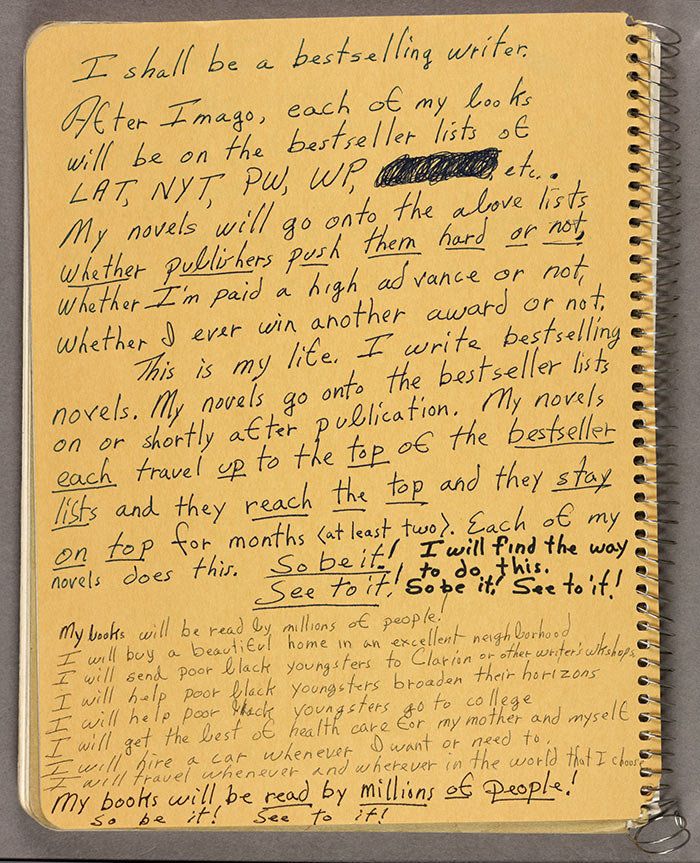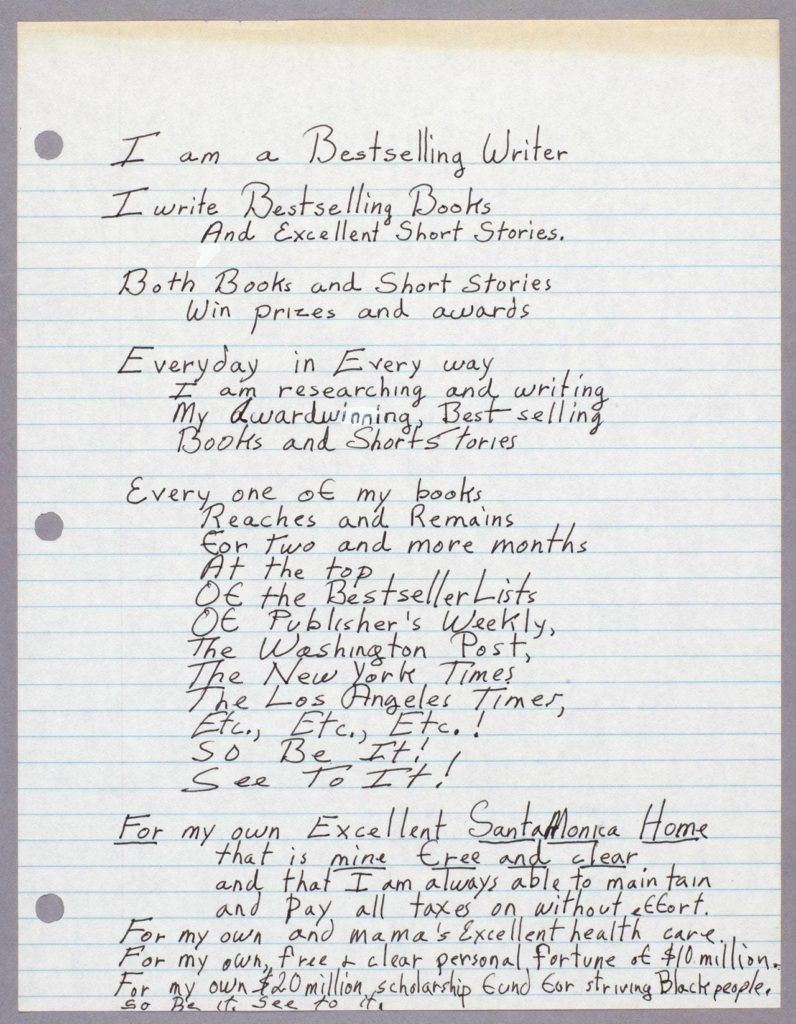 This is my life. I write bestselling novels. My novels go onto the bestseller lists on or shortly after publication. My novels each travel up to the top of the bestseller lists and they reach the top and they stay on top for months <at least two>. Each of my novels does this.
So be it! I will find the way to do this. See to it! So be it! See to it!
My books will be read by millions of people!
I will buy a beautiful home in an excellent neighborhood
I will send poor black youngsters to Clarion or other writer's workshops
I will help poor black youngsters broaden their horizons
I will help poor black youngsters go to college
I will get the best of health care for my mother and myself
I will hire a car whenever I want or need to.
I will travel whenever and wherever in the world that I choose
My books will be read by millions of people!
So be it! See to it!