[O]livia Cummings is that girl whose kind of life you're jealous of. From her Instagram to her business, it seems like she's got it all figured it out — world travels, beautiful jewelry and an impressive style. She's got friends all over the world, from Paris to Istanbul, she's seen and done it all. But how did this Australian entrepreneur create such a life?  How does she travel 365 days of the year while maintaining her own business? The main ingredient: passion.
While studying at Melbourne University, she became enchanted with languages, but none more than French. After many trips back and forth across the Indian Ocean, Olivia finally moved to Paris. Her days were filled with wine and cheese, her vacations with adventures around Europe, India and Turkey. It was in Istanbul that her inner child surfaced. While exploring the markets with their colorful spice displays and dried fruit stalls, Olivia began collecting crystals again. This time she wanted to share not only her stones, but also her adoration of the ethereal, the symbolic.
Cleopatra's Bling was born that day: a fusion of eastern allure and western style. Olivia managed it from her second home in Paris, visiting Turkey regularly to sip thick, black coffee with her jeweler and embrace all things bohemian. Despite her life resembling a fairytale, after six years in France, Olivia decided her Parisian life had almost come to an end. But everything happens for a reason – she embraced her independence, driven by the desire to introduce Cleopatra's Bling to the world, and moved to Turkey. Today you'll find Olivia in between Istanbul, Paris and Melbourne with a scarf in her hair, and a ring on every finger. Olivia strives to create jewelry with emotional and historical relevance, respecting ancient jewelry-making traditions.
Words of Women got the chance to interview the stylish jewelry maker about her life, her challenges and her favorite things:
1. How old are you and where are you from?
I'm 28 and from Melbourne, Australia.
2. What's your story?
I went to Berlin for a year at 16, started the travel bug I haven't been able to get rid of since. Then fell in love with a Frenchman at 18, moved to Paris for 6 years, realized he wasn't the man for me, had an existential crisis, went to Istanbul for a week on my own to discover something new, fell head over heels for the local craftsmanship there, started getting ideas of alternative routes I could take, left Paris, moved to Istanbul with a suitcase and 500 euros to my name, found a room, started meeting people in the Grand Bazaar of Istanbul, took Turkish classes, learnt how to carve and cast jewelry….. since then started my brand Cleopatra's Bling. The rest is history!
3. How did you get into jewelry?
I would say it was 100% unplanned, and also 100% thanks to a heartbreak which led to me realizing I was not living my full potential as a young woman. Thank Goodness for life experience! I have always had a passion for design and art, so it was only natural that it happen at some point.
4. What's the hardest part about working for yourself?
I constantly argue with myself…. I think it's tough to always feel motivated and when I finish work for the day, my brain doesn't "turn off" like it would if I worked in an office.
5. What's the best part?
Freedom to express my creativity.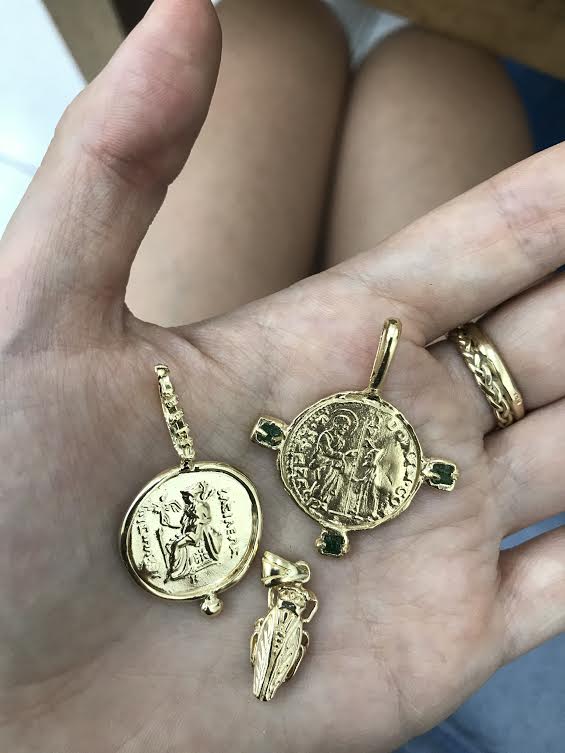 6. What advice would you give other women looking to follow their passion?
Don't overthink it, or stress about a business plan. Wing it and let passion and inspiration take over… worry about details after.
7. What's your favorite quote?
It's not a quote, but I LOVE poetry by Hafiz (a Sufi mystique). Here is an example of one I love:
"I wish I could show you
when you are lonely or in darkness
the Astonishing light
Of your own being!"
8. Where do you see yourself in 10 years?
My business will have grown, but will still be artisanal (I'll never outsource design), I'll have kids, will live in harmony with the love of my life and I'll tend to a garden where I grow fruit and vegetables. My studio will be a beautiful inspiring mess!
10. What's your favorite part about being a woman? The divine feminine… it's so special and sacred. I think as I get older, I am more and more in tune with my feminine cycles, changeable nature, and more true to what I always was, but didn't have the courage to embrace. Now I feel courageous in my femininity and this allows me to express my creativity and nurturing qualities while remaining strong and independent.
9. What do you value most in your friends?
Loyalty, honesty, and laughter.
10. What do you value most in a relationship?
Loyalty, resilience, open and raw communication, affection (physical and verbal)
11. What advice were you given before starting your business?
I am pretty sure my parents told me to just go for it, to not think too much and just dive.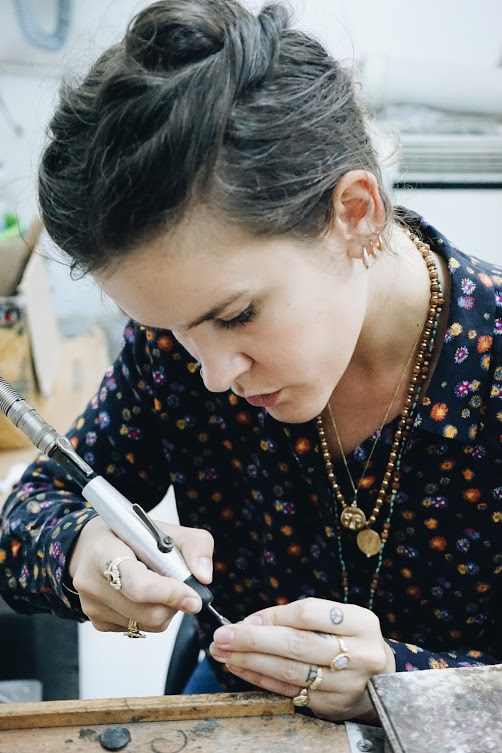 12. What was the best moment of your career so far?
Probably when I first was published in Vogue. SO surreal!
13. What does your typical day look like?
Wake up, tea/coffee, yoga and meditation, emails… if I am in my workshop I hammer away all day and solder, set stones etc. If it's an email/admin day, then it's all computer work. I do have the luxury of having an Italian in my life who forces me to take a lunch break with a cooked meal, so I am learning to chill more. Before him, I would forget to have a proper lunch or just work, then crash in the afternoon. I try and put my phone away from 8pm-8am. Makes my sleep better.
14. What is your motto?
LIVE IN YOUR HEART SPACE
15. What is your favorite item of clothing?
Currently my Mum's linen double breasted linen jacket from the 80's… giving it a second life!
16. Describe your mood right now in one word.
Content
17. What was your favorite book as a child?
'Where The Wild Things Are'
18. Do you consider yourself a romantic?
100%
19. Do you miss someone at the moment?
My family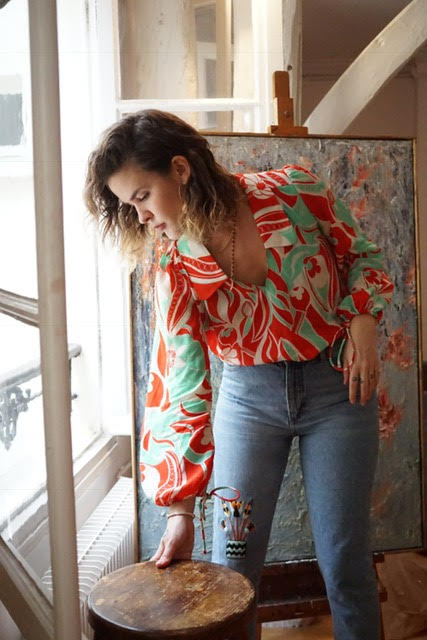 20. What was the last thing you read?
Cook book last night
21. What are you afraid of?
Not reading enough and learning enough
22. What would you do if you found $50 on the ground?
Buy nice ingredients and cook a delicious meal
23. What is one thing you would want to teach your children?
To never judge anybody else, and to lead by example and love
24. What can you hear right now?
Italians speaking (very) loudly
25. What is one thing you want to overcome/conquer?
I suppose body image, I think it's something women are born with but also that we are fed: to always feel slightly uncomfortable about how we look.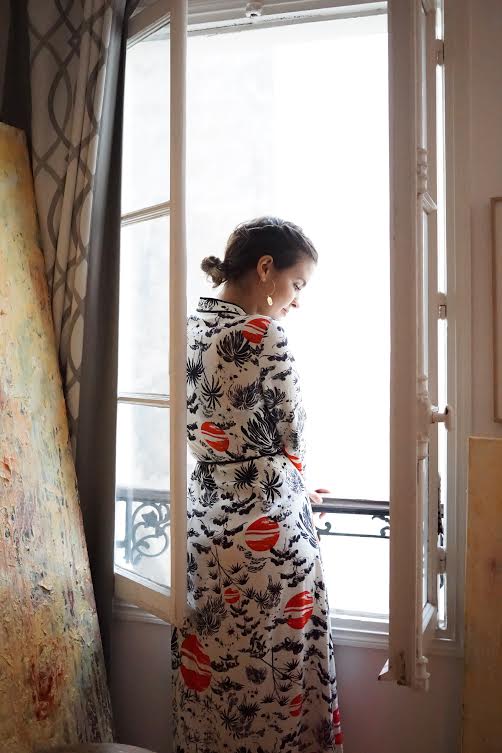 26. Describe yourself using one word.
Wholesome.
27. What's your favorite characteristic in a man?
Kindness/softness
28. What's your favorite characteristic in a woman?
Nurturing
29. What was the last lie you told?
That I wasn't hungry (LOL)
30. What's the best thing about life?
The fact that we are vibrating so much love and magic