Martha Gellhorn was an American novelist, travel writer, and journalist, who is now considered one of the greatest war correspondents of the 20th century. She reported on virtually every major world conflict that took place during her 60-year career. Gellhorn was also the third wife of American novelist Ernest Hemingway, from 1940 to 1945. At the age of 89, ill and almost completely blind, she died in 1998 in an apparent suicide. The Martha Gellhorn Prize for Journalism is named after her.
Gellhorn graduated in 1926 from John Burroughs School in St. Louis, and enrolled in Bryn Mawr College in Philadelphia. In 1927, she left before graduating to pursue a career as a journalist. Her first published articles appeared in The New Republic. In 1930, determined to become a foreign correspondent, she went to France for two years, where she worked at the United Press bureau in Paris. While in Europe, she became active in the pacifist movement, writing about her experiences in her book What Mad Pursuit (1934).
After returning to the United States, Gellhorn was hired by Harry Hopkins, whom she had met through her friendship with First Lady Eleanor Roosevelt, as a field investigator for the Federal Emergency Relief Administration (FERA), created by Franklin D. Roosevelt to aid in the war on the Great Depression.
Gellhorn first met Hemingway during a 1936 Christmas family trip to Key West, Florida. They agreed to travel to Spain together to cover the Spanish Civil War, where Gellhorn had been hired to report for Collier's Weekly. The pair celebrated Christmas of 1937 together in Barcelona.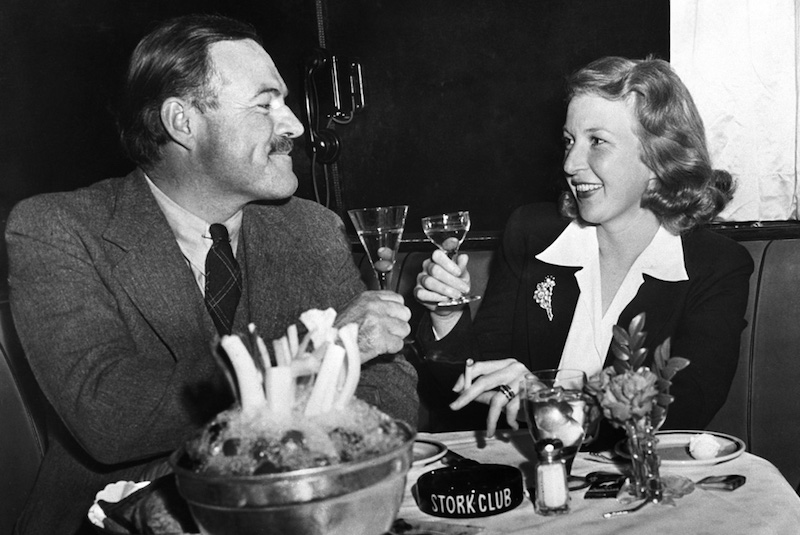 She and Hemingway lived together off and on for four years, before marrying in December 1940. (Hemingway had ostensibly lived with his second wife, Pauline Pfeiffer, until 1939). Increasingly resentful of Gellhorn's long absences during her reporting assignments, Hemingway wrote her when she left their Finca Vigía estate near Havana in 1943, to cover the Italian Front: "Are you a war correspondent, or wife in my bed?" Hemingway himself, however, would later go to the front just before the Normandy landings, and Gellhorn also went, with Hemingway trying to block her travel. When she arrived by means of a dangerous ocean voyage in war-torn London, she told him she had had enough.
She had found, as had his other wives, that, as described by Bernice Kert in The Hemingway Women: "Hemingway could never sustain a long-lived, wholly satisfying relationship with any one of his four wives. Married domesticity may have seemed to him the desirable culmination of romantic love, but sooner or later he became bored and restless, critical and bullying." After four contentious years of marriage, they divorced in 1945.
Martha opposed that Hemingway, nor any man, would ever take her away from her passions. She would not hamper herself, or her dreams, to stay home and appease the ego of her husband. Francine Du Plessix Gray of "The New York Times" writes,
"One might well argue that there's considerable advantage, for a gifted woman, in having a take-it-or-leave-it attitude to sex, in being ever ready to abandon the most desirable men to pursue her vocation. An imperviousness to lust is certainly what Martha Gellhorn (1908-1998), the greatest female war correspondent of the mid-century decades, had in mind when she wrote to a friend, "I only loved the world of men — not the world of men-and-women."
This steely penchant for independence and man's work was repeatedly expressed in her collection of letters. We can all gain some insight from her words and hope to all live as proud and independently as Ms. Gellhorn.
I stopped lying or exaggerating to myself a long time ago; and have gotten a certain amount of steady joy out of knowing myself and where I stand.

The damage is all done and I will get through it all right because there is no damage anyone can do to me which will be permanent.

All I know is this: … What you live by is what you believe and what you are willing to sacrifice for, what you admire and love.

But I think one has to fight fear in oneself for oneself. Self fears are really diminishing, to one's dignity as a human being, to one's chances of living hard and fully.

But I cannot help it. I only want to be alone. I want to be myself and alone and free to breathe, live, look upon the world and find it however it is…

My chosen and projected status is that of an outsider, I have never seen any place or group I wanted to join: not their taboos, rules, games, ambitions . . . I am an outsider.

I want life intense whether it's good or bad, but I never want it other than intense. I want to know it's happening, every minute of it.

There's no way to win. You get what you ache and perish for, in tiny unexpected bursts when least looked for; and sometimes are so blinded with your hunger that you can't even feel them as they happen, but only know afterwards, in despair, what you lightly took.

You know, I don't believe that one about it being better to have loved and lost. Damn sight easier just to scrabble along, without the pain of memory, without memories at all.

Nothing is better for self-esteem than survival.